St. Vincent Health System
From FranaWiki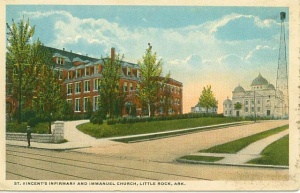 The St. Vincent Health System was established as the Charity Hospital in Little Rock, Arkansas, in 1888.
Funds for the founding of the Charity Hospital were derived from the estate of Alexander Hager, who vowed that he would use his money to start a hospital after the city was spared from the Yellow Fever Epidemic of 1878. The ten-bed hospital opened in the late 1880s on East Second Street under the administration of the Sisters of Charity of Nazareth and the Little Rock Diocese. Seven local physicians participated in the founding of the hospital: R. B. Christian, R. G. Jennings, J. A. Dibrell, Edwin Bentley, William E. Green, Claiborne Watkins, and E. D. Avers.
The hospital was renamed the Little Rock Infirmary in 1889 by Bishop Edward Fitzgerald. The name changed again in September 1900 when the hospital staff moved the the fifty-bed St. Vincent Infirmary at the corner of Tenth and High streets. A St. Vincent Infirmary School of Nursing opened on site in 1906. One hundred more beds were added as an annex to the facility in 1910. A sixty bed maternity annex opened in 1938.
The hospital moved for the last time in December 1954 to the corner of Hayes and University avenues. The new hospital had 312 beds.
References
External links