Samuel Adams
From FranaWiki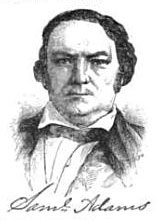 Samuel Adams was acting governor of Arkansas from April 29 to November 5, 1844. He succeeded Governor Archibald Yell who resigned from the office. He was succeeded by Thomas S. Drew.
Adams was born in Humphreys County, Tennessee. In 1835 he moved with his wife Rebecca to what became Johnson County, Arkansas. He was elected the the Arkansas State Senate in 1840, and became Lieutenant Governor in 1844. After serving briefly as acting governor he became the State Treasurer in 1846.
Adams died in Little Rock on February 27, 1850.
References
The National Cyclopaedia of American Biography: Being the History of the United States as Illustrated in the Lives of the Founders, Builders, and Defenders of the Republic, vol. 10 (J.T. White, 1900), 185-186.
External links