Archibald Yell
From FranaWiki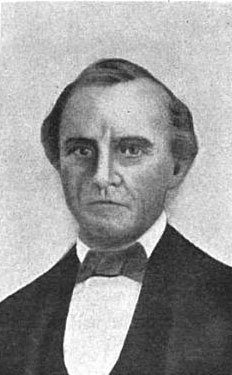 Archibald Yell (1797-1847) was the second governor of the State of Arkansas, serving from November 4, 1840 to April 29, 1844.
Yell was born in North Carolina in August 1797. He moved to Bedford County, Tennessee, as a child and eventually became a captain in Andrew Jackson's guards during the war against the Creek and Seminole Indian tribes. He fought at the battles of Talladega, Emucfau, and Horseshoe Bend. Yell also fought with Jackson in the war against the Seminole tribe. After the Indian wars, Yell studied law in Tennessee.
In 1832 President Jackson appointed Yell to the position of receiver of public monies for the Little Rock Land Office. He was the first representative to the U.S. Congress from the new state of Arkansas in 1836. He was elected Democratic governor in 1840. He became a brigadier general during the Mexican War, and was killed in action at the Battle of Buena Vista on February 22, 1847. He is buried at Evergreen Cemetery in Fayetteville.
References
John Hugh Reynolds, Makers of Arkansas History (Silver, Burdett and Company, 1905), 205-211.
The National Cyclopaedia of American Biography: Being the History of the United States as Illustrated in the Lives of the Founders, Builders, and Defenders of the Republic, vol. 10 (J.T. White, 1900), 185.
External links