Riverfront Adventure Park
From FranaWiki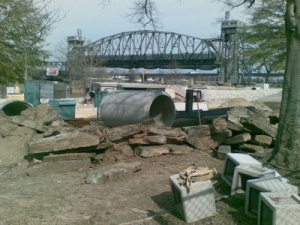 Riverfront Adventure Park is a playground under construction in Riverfront Park in downtown Little Rock. The playground project, which is costing $700,000, is a join venture between the Little Rock Department of Parks and Recreation and the Peabody Hotel. Part of the playground area will be called Peabody Park.
The park is unusual in that it shuns traditional plastic building materials in favor of natural building materials. For instance, the project calls for 1.3 million pounds of sandstone boulders to create an eight-foot climbing wall. Said assistant parks director Mark Webre, "It's kind of going back to nature, so to speak. Mother nature has provided us with some elements that we can borrow and use." The park will also have a splash fountain and waterfall, a "tree room," concrete tunnels, and a pavilion. Many of the ideas for the park were generated in an August 2006 meeting with dozens on Little Rock children.
References
Matthew S.L. Cate, "Planners Go on Rock Hunt for LR Park," Arkansas Democrat-Gazette, December 12, 2006.
External links