Regions Bank Building
From FranaWiki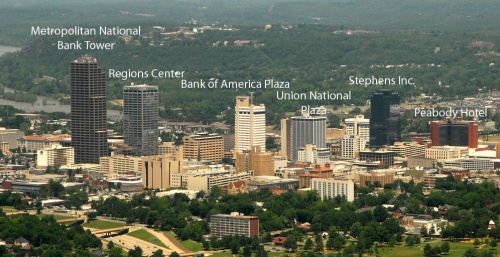 The Regions Bank Building is a thirty-story office tower in downtown Little Rock, Arkansas. The building was the tallest in Arkansas from July 1975 until 1986, when it was surpassed in height by the Capitol Tower Building. The cost of construction was $23 million. The building was erected by the local Pickens-Bond Construction Company.
The building, which encompasses 600,000 square feet, was originally named the First National Bank Building, later renamed the First Commercial Building, and is now known as the Regions Center. The tower is located at the corner of Broadway and Capitol Avenue in downtown Little Rock.
Beginning in 1975 the Restaurant Jacques et Suzanne occupied the topmost floor of the building. At some point the restaurant closed down and was replaced by the Little Rock Club.
The address of the Regions Bank Building is 400 West Capitol Avenue.
References
"Bigger Taller, Costlier: Landmark Buildings Outdo Each Other," Arkansas Business, December 27, 1999.
Evin Demirel, "His Projects Shape Capital City Skyline," Arkansas Democrat-Gazette, April 3, 2009.
External links