First National Building
From FranaWiki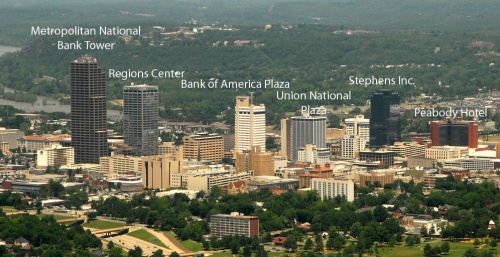 The thirty-story First National Building was the tallest office tower in Arkansas from July 1975 until 1986, when it was surpassed in height by the Capitol Tower Building. The building, which encompasses 533,534 square feet, was later renamed the First Commercial Building and is now known as the Regions Center. The tower is located at the corner of Broadway and Capitol Avenue in downtown Little Rock.
The cost of construction of the First National Building was $23 million. The building was designed by Wittenberg Delony & Davidson Inc. and erected by the local Pickens-Bond Construction Company.
The first floor concourse features a permanent photographic exhibit called "Cobblestones to Skyscrapers: Downtown Little Rock, 1862-present." The 300 Conference Center and Dogwood Auditorium are located on the third floor of the tower.
Past and Present Tenants
References
"Bigger Taller, Costlier: Landmark Buildings Outdo Each Other," Arkansas Business, December 27, 1999.
Evin Demirel, "His Projects Shape Capital City Skyline," Arkansas Democrat-Gazette, April 3, 2009.
External links