Peabody School
From FranaWiki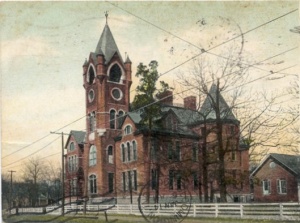 Peabody School was Little Rock's third high school. The school building no longer exists.
Peabody School was constructed in 1890 on school property at the intersection of West Capitol and Gaines streets. The land had been purchased in 1870 and contained a cemetery. When Peabody School was build the remains and grave markers were moved to Mount Holly Cemetery. The school was built with a $200,000 bequest from philanthropist George Peabody. High school classes occupied the upper floor of the building and elementary classrooms the lower floor.
The school replaced the Scott Street School (more commonly known as City High School) at the corner of 14th and Scott streets. High school classes at Peabody School was in turn replaced by Little Rock High School at Fourteenth and Cumberland in September 1905. Grades 1 through 8 continued to use the school into at least the 1950s. A part-time school became a fixture of the third floor in October 1928.
Principals
Teachers
Other Staff
George Reed (janitor)
Samuel Young (janitor)
References
External links