Central High School
From FranaWiki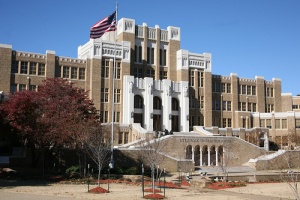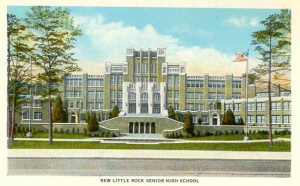 Central High School was the site of a dramatic 1957 confrontation between federal troops sent by President Dwight D. Eisenhower to racially integrate the school and National Guard troops dispatched by Arkansas Governor Orval Faubus. Faubus' immediate goal was to prevent nine black youth from attending Central High. The school was built in 1927 at a cost of $1.5 million. It was initially called Little Rock Senior High but was later renamed Little Rock Central High. At the time of its grand opening it was hailed by the National Association of Architects as the largest, most beautiful, and most expensive high school in the nation.
In 1954, a landmark Supreme Court Case, Brown vs. Board of Education, mandated the integration of all public schools. The stage was set for the morning of September 23, 1957, when nine black students seeking to enter the school were met by a rowdy mob of over 1,000 white protesters. The governor of Arkansas at the time, Orval Faubus, called in the Arkansas National Guard to bar the entrance and prevent the black students' entry, thus precipitating the Little Rock Crisis. The students had to go home that day, but the next day was different. President Eisenhower ordered 1,200 men from the U.S. Army's 101st Airborne Division to escort the students inside. He also took the Arkansas National Guard out of Faubus' hands. The whole ordeal lasted three days, and members of the Army remained around the school for the entire year. The nation and the world watched to see what would become of Brown vs. Board of Education's decision; the Southern states were extremely hesitant to implement the decision.
Little Rock Central High hosted a commemoration ceremony on September 23-24, 2007, in memory of the crisis, and each member of the Little Rock Nine is said to have spoken. A new Central High School National Historic Site visitor center opened in commemoration as well.
References
External links