Mount St. Mary Convent
From FranaWiki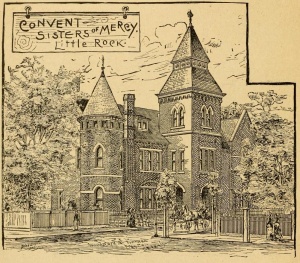 Mount St. Mary Convent (also known as the Convent of Mercy) was located at the corner of West Seventh and South Louisiana streets in Little Rock, Arkansas.
Mount St. Mary Convent
Irish bishop Andrew Byrne of St. Mary's Mission near Pine Bluff, Arkansas, called thirteen members of the Sisters of Mercy from Naas, Ireland, to establish St. Mary's Convent in Little Rock in 1850. The convent had a chapel, music room, and a drawing and reception room by 1881.
In 1886 Mother Alphonsus Carton supervised eleven sisters, three novices, and four postulants at the convent.
St. Joseph's School
Mount St. Mary Academy
Mount St. Mary Academy was a private, Catholic high school attached to the convent in 1851 by the Sisters of Mercy of the Diocese of Little Rock. The academy in the late nineteenth century consisted of the school, two dining rooms, a kitchen, laundry facilities, bath rooms, and a hen house. The school remains the oldest continuously operating private educational institution in the state of Arkansas. The school moved to its current home in Pulaski Heights in 1908.
Student attendance figures:
References
Hoffman's Catholic Directory, Almanac, and Clergy List (M.H. Wiltzlus Co., 1886), 229.
External links