Mike Huckabee
From FranaWiki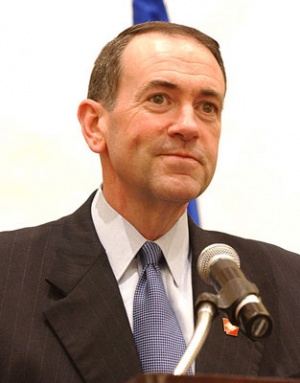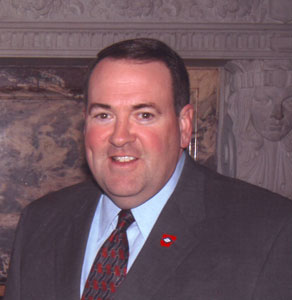 Mike Huckabee is former Governor of the State of Arkansas.
Mike Huckabee was born in Hope, Arkansas, on August 24th, 1955. Huckabee joined the Garrett Memorial Baptist Church in 1965, having expressed interest in church activities early on his his life. Initially his eyes were set firmly on the media or public service industry for targets for a possible career track, but his mind abruptly changed in 1968. After witnessing the chaotic events rocking the U.S. and world at the time, he decided to focus his aspirations instead on the public sector. He displayed the desire to lead at a young age, being elected as governor of the Arkansas Boys State in 1972. After graduating high school in 1973, he studied as a religions major at the Ouachita Baptist University in Arkadelphia for two-and-a-half years. He also enrolled in the Southwestern Baptist Theological Seminary in Forth Worth, Texas, for a year following his scholastic efforts.
He got his first real break in 1980 when he became the minister of the Immanuel Baptist Church in Pine Bluff. This occupation was followed up later when he became the pastor of the Beech Street Baptist Church in Texarkana from 1986 to 1992. Meanwhile Huckabee was elected president of the Arkansas Baptist Convention in 1989, where he was constantly urged by his peers to seek public office. His chance came in 1992 when he ran for a Senate seat against Democrat Dale Bumpers, but he lost the general election with 40% of the vote. When Bill Clinton took Presidential office in 1993, the Lieutenant Governor Jim Guy Tucker was sworn in to take his place at the head of the state. Huckabee won the emergency election to fill the year long void, and then went on to win a reelection to the position in 1994. A connection between Governor Tucker and the Whitewater scandal began to bubble to the surface by 1996, and a number of circumstances led Tucker to seek resignation. Huckabee was then catapulted to the gubernatorial seat, and sworn in as Arkansas' forty-fourth governor on July of that year.
Major undertakings during his terms in office were:
ARKids First, a health-care plan to cover the state's youth who were ineligible for Medicaid.
Smart Start and Smart Step, programs designed to help push for stronger Reading and Math comprehension in the educational system.
Covenant Marriage Act of 2001, an option in marriage contracts that Huckabee said allowed "couples a chance to be held to a higher level of marital commitment."
Healthy Arkansas, a program to promote healthier lifestyles among the state's citizenry.
A substantial initiative to overhaul and rebuild the state's highway system.
As of February 9th, 2008, Mike Huckabee is a candidate for the Republican nomination to become President of the United States. On March 4th, 2008, after losing to John McCain in Texas, Huckabee conceded.
Huckabee is now a regular contributor to Fox News and has made comments that he is in talks to develop his own show on the network.
References
External links