Logan H. Roots
From FranaWiki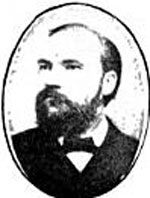 Logan H. Roots (March 26, 1841-May 30, 1893) was a Union officer, plantation owner, cotton-seed manufacturer, lumberman, and Republican Representative to the U.S. Congress.
Roots was born on March 26, 1841, to Professor B. G. Roots of rural Perry County, Illinois. He was an 1862 graduate of the Illinois State Normal University. Roots helped recruit the 81st Illinois Volunteers during the American Civil War, and as a colonel in the Union Army rode with General Sherman on his famous "March to the Sea" in Georgia. He was assigned duties in Arkansas during the Reconstruction phase following the war, and became a cotton plantation owner. During his tenure as a U.S. Representative from 1867 to 1871 Roots introduced legislation to create a Southern transcontinental railroad, known as the Texas & Pacific Railway.
Roots served as president of the Arkansas Loan & Trust Company, president of Little Rock's First National Bank, president of the Arkansas Lumberman's Association, president of the Arkansas State Bureau of Immigration, president of the Arkansas State Sunday-School Association, executive committee member of the Arkansas branch of the Young Men's Christian Association, treasurer of the Little Rock Cooperage Company, and treasurer of the Episcopal Diocese of Arkansas. He was a Grand Master of the Freemasons, a Grand High Priest of the Grand Chapter of the Grand Council, and Grand Commander of the Arkansas Knights Templar.
Logan H. Roots' personal residence was located at 923 Scott Avenue. Fort Logan H. Roots bears his namesake. The military complex is now home to the Eugene J. Towbin Healthcare Center of the Central Arkansas Veterans Healthcare System. Roots is buried at Oakland Cemetery.
References
Goodspeed's History of Pulaski County, Arkansas (1889).
External links