First United Methodist Church of Conway
From FranaWiki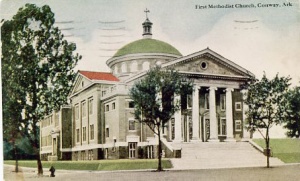 First United Methodist Church was established in Conway, Arkansas, in 1871.
The congregation that began the Methodist Church in Conway began meeting at the local railroad work camp in 1870. Some services were held in boxcars on a railroad siding and inside the Conway Station. In 1871 the church attracted John H. McCulloch as its first minister. Other pastors included J. J. Tarleton, Abel C. Ray, W. R. Knowleton, H. C. Jolly, Burton Williams, and T. A. Graham. On March 13, 1873 the congregation acquired property for a meeting house at the corner of Front and Mill streets from Nan Tyler. In 1879 John J. Roberts became the church's first full-time minister. In 1882 the church found its second pastor, J. F. Hall. In that year the church had eighty-eight members.
Asa P. Robinson sold the congregation land for its first permanent church structure on April 7, 1883. The land was located at the corner of Prince and Locust streets. (The site later became Davis Exxon station.) Next door to the church was the Green School. A subscription drive for the church was launched by local attorney Philander Holcomb "P. H." Prince. The architectural plan was developed by Robinson from a page torn from a book by Pastor Hall. In May 1883 the cornerstone was laid. Pews were constructed by J. A. Pence in his local woodworking shop. The church, topped by a eighty-seven foot gold leaf dome and spire was completed on March 1, 1884.
The church at Prince and Locust rapidly became too small for the growing congregation of 180 by 1897. On April 15, 1898, a deed to land at the corner of Prince and Clifton streets was acquired from Annie Durham. The cornerstone of this new brick church was laid on October 17, 1898. By 1904 the church had grown to 705 members.
In 1904 the old meeting house on Front Street was dismantled and used as materials for White's Chapel, a church for African Americans.
Today the congregation occupies a building designed by New York architect George W. Kramer and constructed beginning on August 15, 1913. The building is made of brick, ceramic tile, wood, and glass, and is located at the intersection of Prince and Clifton streets. Six columns in front of the church are made of Batesville marble. The twenty-two foot, 30 inch diameter columns arrived on site on August 3, 1914. While the church was being constructed the congregation met in the local public school auditorium. The church edifice at 1610 Prince Street is listed on the National Register of Historic Places.
Between 1953 and 1955 the church added an education building to the site, as well as a smaller chapel. Between 1969 and 1970 the church added a youth building.
The street address of the church is 1610 Prince Street.
References
External links