First Security Center
From FranaWiki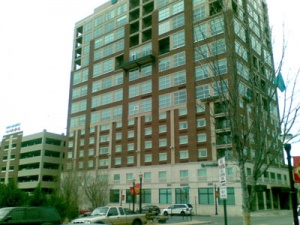 First Security Center is a fourteen-story mixed use office and hotel tower located at the corner of President Clinton Avenue and Sherman Street in the historic Little Rock River Market District.
The 200,000-square-foot First Security Center opened on October 29, 2004, just before the Clinton Library dedication at a cost of approximately $25 million. Three floors of the building are given over to the operations of First Security Bank and First Security Crews and Associates of Searcy. The building also features the first new hotel in the downtown district since 1982, a Courtyard by Marriott with 120 rooms on the first six floors. The First Security Center also has twenty-six luxury and four penthouse condominiums on floors 11 through 14.
The building elicited early concerns from the River Market Design Review Committee, which thought that its height might overpower other one- and two-story buildings in the River Market District, but a consensus developed that the facility would draw more people and business to the district. The building is designed to encourage urban density which in turn is expected to ignite urban renewal of other services.
First Security Center is owned and operated by Moses Tucker Real Estate. The architectural firm involved in the planning of the building was Wittenberg, Delony, and Davidson of Little Rock. Construction on the building began in July 2003, under the leadership of CDI Contractors.
References
Elisa Crouch, "Developer Plans Hotel-Office-Condo Tower for River Market," Arkansas Democrat-Gazette, October 23, 2002.
Leroy Donald, "Everybody's Business Developer: First Security Center's 24 Condos All Sold," August 29, 2004.
Edward Klump, "Builder Has High Hopes for New 14-Story Center," Arkansas Democrat-Gazette, May 16, 2003.
Edward Klump, "Condos to Rise on East Capitol: Moses Tucker Form's $3 Million Project to Offer 20 Units," Arkansas Democrat-Gazette, May 1, 2003.
Edward Klump, "LR's First Security Center Hotel Plans to Open Friday," Arkansas Democrat-Gazette, October 28, 2004.
External links