Charles E. Taylor
From FranaWiki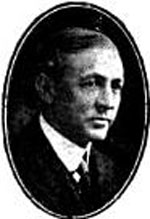 Charles Edward Taylor (1868-1932) was Democratic mayor of the City of Little Rock from 1911 to 1919.
Taylor was born to William Arbuckle and Mary Perkins Taylor in Austin, Mississippi, on September 15, 1868. His family moved to Arkansas in the 1870s. Around age twelve the family moved into the city of Little Rock. Taylor attended local schools, including the Scott Street School. He worked as a clerk at Fones Brothers Hardware Company, and then as a salesman for Dickinson Hardware Company. In 1902 he served as secretary-treasurer of the Arkansas Retail Hardware Association. Sometime around 1906 he was hired as secretary-treasurer of the Arkansas Brick and Manufacturing Company.
Taylor, who had never held public office, defeated city alderman John Tuohey in the Democratic mayoral primary of November 1910. Taylor promised to serve the city as a progressive businessman in his campaign. He hoped to improve public health, fire department services, and reduce the amount of gambling, alcohol consumption, and prostitution in the city. The election results were tainted by scandal. In a run-off election Taylor emerged victorious. He entered the Little Rock Mayor's Office in April 1911. Taylor, police chief Fred Cogswell, and the Little Rock Vice Commission worked together to close down the city's red light district by 1913. He also cleaned up the city's water system, paved streets, installed fire hydrants and sewer lines, and erected electric streetlights. The Central Fire Station was also constructed downtown during his tenure.
After eight years in office, Taylor began speculating in other business ventures, including the Curtis Motor Car Company and oil leases in El Dorado, Arkansas.
Taylor married Belle Blackwood on October 15, 1895. They had four children together and attended Second Baptist Church in Little Rock. Taylor died on January 11, 1932. He is interred in Little Rock's Oakland Cemetery.
References
External links