Cajun's Wharf
From FranaWiki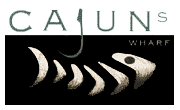 Cajun's Wharf is a restaurant and nightclub at 2400 Cantrell Road in the Riverdale neighborhood of Little Rock, Arkansas. Cajun's Wharf is known for its seafood, bar, entertainment, and outdoor deck overlooking the Arkansas River.
The restaurant opened in 1975, and was remodeled for about $1 million in 2004.
The group that owns Cajun's also owns Capers and the Copper Grill & Grocery in Little Rock.
References
External links