Altus
From FranaWiki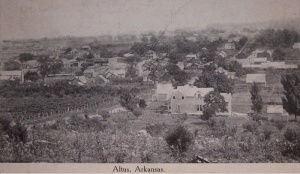 | | |
| --- | --- |
| Street View of Main Street in Altus | |
Altus is an Arkansas town best known for its wineries. The town, located below St. Mary's Mountain is a high point in elevation on the road between Little Rock and Fort Smith. The town is in Franklin County and has a population of 817 people. Altus served as home base for the first season of the FOX television reality show The Simple Life, starring Paris Hilton and Nicole Ritchie. Hilton and Ritchie lived with a local family for one month. The show garnered as many as 13 million viewers.
Wineries
The Arkansas River Valley has great natural potential for grape growing due to its mountains, valleys, and well-drained sandy soil. Altus is home to four wineries: Post Familie Vineyards & Winery, Wiederkehr Wine Cellars and Vineyard, Mount Bethel Winery, and Chateau Aux Arc Vineyards & Winery.
Each of these places offer free tours and a variety of other tourist attractions. The wineries can be traced back to the 1870s when German-Swiss immigrants settled in the area and began to grow grapes. Johann Andreas Wiederkehr dug out his first wine cellar in 1880. German emigre Jacob Post, fleeing the Franco-Prussian War, founded the Post Familie Vineyards & Winery that same year. Later, his descendant Eugene Post founded Mount Bethel Winery on the original site of the Post Winery, which remains one of the largest in Altus.
In 1984, the federal government declared 12,800 acres around Altus an American Viticulture area.
Education
Altus is served by the Ozark School District.
Altus was the original home of Hendrix College. Hendrix was established on October 30, 1876, as Central Institute. The founder of Central Institute was the Reverend Isham L. Burrow. In 1881 the name of the school was changed to Central Collegiate Institute. It became an affiliate of the Southern Methodist Church in Arkansas in 1884. In June 1889 the school's name changed again, to Hendrix College, in honor of Bishop Eugene R. Hendrix.
The school struggled in Altus, largely over differences of administrative opinion. Delegates to the Arkansas Methodist Conference first discussed moving Hendrix elsewhere at a November 20-25, 1889, meeting in Conway. Local Conway minister E. A. Tabor encouraged the delegates to consider his town as a new home for the school. At a trustees meeting in March 1890 three finalists were considered: Arkadelphia, Conway, and Searcy. On the fifty-first ballot Conway was selected. The trustees were swayed by an offer of $10,000 from local resident Captain W. W. Martin, and $62,000 pledged by other local citizens.
Government
A U.S. Post Office was established in Altus on July 6, 1875.
References
Myrtle E. Charles, "Early Days at Hendrix College, 1887-1910," Faulkner Facts and Fiddlings, 2.4 (October 1960): 5-24.
Cristal Cody, "Red and White, but Blue Youth; Law Changes are State Winemakers Hope," Arkansas Democrat-Gazette (September 30, 2001).
External links