Abner D. Thomas
From FranaWiki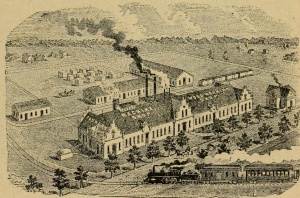 Abner D. Thomas was the president of the Thomas Manufacturing Company (also known as the Thomas Cotton Press Works) in Little Rock in the late nineteenth century.
Thomas was born in New York State, and became a school teacher and physician after moving to Chicago in 1856. During the Civil War he served as major-surgeon. He left the service at Post Lewisburg, Arkansas, in June 1865. At Post Lewisburg he became a planter, miller, and druggist.
In 1883 Thomas invented several pieces of labor-saving cotton handling machines, including the self-packing cotton press. He entered into business with his brother D. H. Thomas and established a large manufactory in Morrilton. In 1886 the operation was relocated to Little Rock.
References
Goodspeed's History of Pulaski County, Arkansas (1889).
External links