Woolworth's
From FranaWiki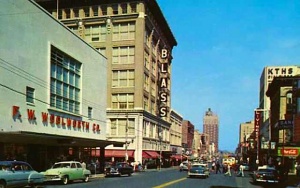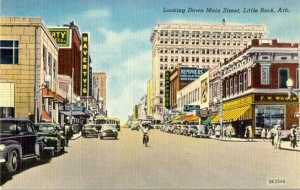 F. W. Woolworth's Five and Dime occupied frontage at 400-404 Main Street in downtown Little Rock beginning in 1950, when the Woolworth Building was constructed.
Desegregation
In October 1962 Bill Hansen announced an imminent sit-in at the Woolworth's lunch counter on Main Street. Little Rock Unlimited Progress director Willard A. Hawkins, faced with ongoing protests, announced that the Chamber of Commerce was creating a special Downtown Negotiating Committee to address the problem. Worthen Bank president James Penick agreed to serve as the chair of this negotiating committee. The committee agreed that downtown businesses must desegregate by January 1, 1963. Apparently unaware of the decision or the deadline or concerned about the strength of promises made, local students launched a sit-in at lunch counters on December 1, 1963. Lunch counters were desegregated on January 1, 1963.
References
Kristin Netterstrom, "LR City Director Calls for Halt to Downtown Demolition," Arkansas Democrat-Gazette, February 11, 2009.
Irving J. Spitzberg, Jr., Racial Politics in Little Rock: 1954-1964 (New York: Garland Publishing Company, 1987).
Mike Trimble, "30 Years Create Downtown Differences," Arkansas Gazette, May 2, 1982.
External links