William Meade Fishback
From FranaWiki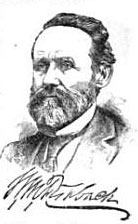 William Meade Fishback was the seventeenth governor of the State of Arkansas, serving from January 10, 1893, to January 8, 1895.
William Fishback was born in Jefferson, Virginia to Frederick and Sophia A. (Vales) Fishback on November 5, 1831. Fishback graduated from the University of Virginia in 1855, and then studied law with Luther R. Spellman of Richmond. He entered the bar in 1858. Fishback established a practice in Fort Smith, Arkansas, in 1858. When federal troops occupied Little Rock during the Civil War Fishback began publishing the Unconditional Union newspaper, and raised the Fourth Arkansas Cavalry for the Union side. The cavalry division never saw action as Fishback was elected a U.S. Senator. Fishback is often portrayed as the author of the new Arkansas Constitution of 1864.
In 1865 Fishback became a Treasury Department agent for Arkansas. He was elected state representative in 1877, 1879, and 1885. He was the author of the so-called Fishback Amendment to the Arkansas Constitution, which banned legislative payment of Reconstruction-era state bonds. He was elected Democratic governor in 1892.
References
The National Cyclopaedia of American Biography: Being the History of the United States as Illustrated in the Lives of the Founders, Builders, and Defenders of the Republic, vol. 10 (J.T. White, 1900), 192-193.
External links