Wilbur Mills
From FranaWiki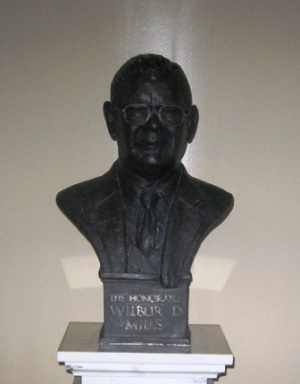 Wilbur D. Mills (1909-1992) was a Democratic U.S. Representative from Arkansas. He began his tenure in Congress in 1939 and served until 1977. from 1957 to 1975 he was chair of the House Ways and Means Committee.
A number of facilities and structures in central Arkansas are named after the congressman, including Wilbur D. Mills University Studies High School, the Wilbur D. Mills Treatment Center for Alcoholism and Drug Abuse, the Wilbur D. Mills Lock and Dam, and the Wilbur D. Mills Freeway. Funding for the east-west Mills Freeway in Little Rock was shepherded through Congress in 1970.
Mills was born in Kensett, Arkansas. He was a graduate of Hendrix College in Conway.
References
External links