Weinkeller Restaurant
From FranaWiki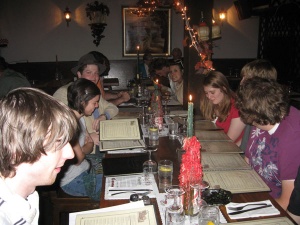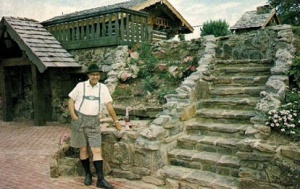 The Weinkeller Restaurant is located on the premises of the Wiederkehr Wine Cellars and Vineyard on St. Mary's Mountain near Altus, Arkansas. An initiator of Arkansas wine culture, Wiederkehr has remained a top producer of fine wines for over a century. The Wiederkehr Winery is a US Bonded Winery, No. 8. The original wine cellar carved into the hillside is the site of the present Weinkeller Restaurant. The cellar, listed on the National Register of Historic Places, has operated as a restaurant since 1967.
Swiss emigrants Johann Andreas Wiederkehr and family founded Wiederkehr Wine Cellars in 1880. Wiederkehr chose Altus specifically for the surrounding area's climate and soil, as they resembled the grape growing climates and soils of Europe. Upon arrival in Altus, Wiederkehr quickly began carving a large wine cellar from the hillside.
Wiederkehr initially made his wines from wild fruits, including persimmons and blackberries, but soon planted a small vineyard and began experimenting with grape varieties. He developed and patented the Campbell Early mutation grape. Johann passed his wine-making knowledge on to his son, Herman "J.B." Wiederkehr. Herman in turn taught his sons Leo and Alcuin, who built the small family business into the largest winery in the middle part of the country by the 1980s.
Wiederkehr Wine Cellars was the first winery in Arkansas to win honors in Europe for its wines. The winery was also one of the first to partner with the University of Arkansas in developing hybrid wine grapes specifically for cultivation in Arkansas, and was the first winery east of the Rockies to produce vitis vinifera grapes. Presently the winery is one of the top one hundred in the country and one of the top two in the state, producing over thirty varieties of wine, including several made from native Arkansas grapes.
The Franklin County winery is still family owned and operated by third and fourth generation members of he Wiederkehr family.
References
Jack Schnedler, "A Knack for Wurst Sets Wiederkehr Cellar's Tone as Swiss-German," Arkansas Democrat-Gazette, November 22, 1996.
External links