Vino's Brewpub
From FranaWiki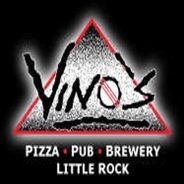 Vino's Brewpub is a restaurant and alternative music venue in downtown Little Rock, Arkansas. Known locally for its personally brewed variety of ales, food is also served to customers in the form of stone-baked, New York style pizzas and calzones, as well as the usual assortment of sandwiches and salads.
Vino's opened originally in September of 1990 as the pet project of investment bankers Henry Lee, Alan Vennes, and Bill Parodi. The building itself had been previously used as a place for local alternative-rock bands to play. While the three men had really just simply wanted a downtown pizzeria pub to eat at, they decided to maintain the music aspect only to ensure an instant customer base--an overall beneficial move as it has become an integral part of the local music scene of Central Arkansas.
The restaurant began with selling imported beer, but once "brewpubs" were legalized in Arkansas in 1991 things began to change. By 1993, they had started brewing their own beer on the tap, and so the Vino's Brewpub, "Little Rock's Original Brewpub" was born. While initially a shaky improvised venture, Lee, the only member of the three-man group that stayed to manage the restaurant, decided to invest heavily in this aspect of the restaurant -- going so far as to hire an expert brewer -- and the local ale has become a hit ever since. The current Head Brewer of Vino's is Bill Riffle.
Vino's also specializes in being a hub of all-age entertainment and arts, with mostly rock acts lined up weeks in advance to get some playtime. Not simply limiting itself to music, occasional comedy troupes and themed party nights are important to maintaining its youthful atmosphere as well.
References
James Little, "Vino's Born From $30,000 and an Appetite,'" Arkansas Business Small Business Journal, July 1996.
External Links