Vic Snyder
From FranaWiki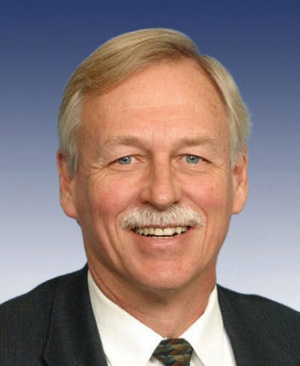 Vic Snyder is a U.S. Representative from the State of Arkansas. Snyder is a Democrat, and he represents Arkansas' 2nd Congressional District, which encompasses most of Central Arkansas, Little Rock, Conway, and Searcy. The 2000 census reported about 666,000 residents in the district with an annual median income of about $37,000.
Snyder was born and raised in Oregon. He became interested in politics in eighth grade during a unit on the U.S. Constitution. He enrolled at Willamette University but after his sophomore year, joined the U.S. Marine Corps and saw action in Vietnam during the chaotic years of 1968-1969. He returned to college, however, and earned a B.S. in Chemistry; he then attended the University of Oregon Medical School in Portland, graduating in 1979. Snyder worked as a full time volunteer on several campaigns before and during medical school.
Next he moved to Little Rock, Arkansas, where he worked at the University of Arkansas for Medical Sciences as a family practice physician for over fifteen years. He often set out on medical missions overseas during this time.
In 1985 he attended the UALR Bowen School of Law and received his J.D. in 1988. In 1991 Synder became a U.S. Senator, and served this post until 1996. From this time onwards, Snyder has been a member of the U.S. House of Representatives and served on both the House Committee on Veteran's Affairs and the Health Armed Services Committee. One controversial action he took as a legislator was to attempt to repeal the state's sodomy (restricting gay sex) laws.
He is currently married to the Rev. Betsy Singleton, pastor of the Quapaw Quarter United Methodist Church in Little Rock. Their only child, "Penn" Snyder, was born May 23, 2006. Snyder may be seen in the Student Center at the University of Central Arkansas during community office hours.
References
External links