Vermillion Water Grille
From FranaWiki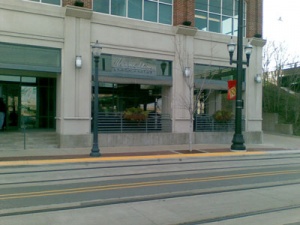 Vermillion Water Grille is a restaurant located in Suite 150 of the Arkansas Capital Commerce Center at 200 Commerce Street in Little Rock's River Market District. Michael Selig is head chef at the restaurant. His sister Amber Selig runs the Vermillion Bistro in west Little Rock's Chenal Valley neighborhood.
Fresh fish are flown in daily from Florida. The restaurant features a thirty-foot mural by local artist John Deering.
Hours for the restaurant are 11 AM to 2 PM Monday to Friday, and 4 PM to 10 PM Monday through Saturday.
References
Philip Martin, "Water Grille Scores Beyond Expectations," Arkansas Democrat-Gazette, October 15, 2004.
External links