Verizon Arena
From FranaWiki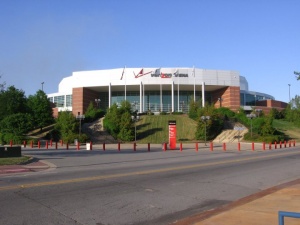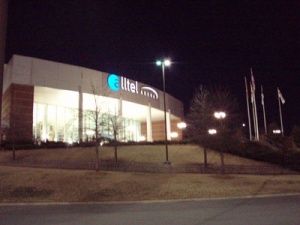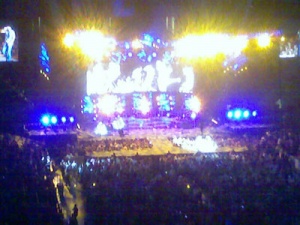 Verizon Arena (formerly known as ALLTEL Arena) is an 18,000-seat indoor venue for concerts and other entertainment events located adjacent to the Arkansas River in North Little Rock, Arkansas. The arena is across the river from the downtown Little Rock River Market. The 370,000 square-foot arena was built in 1998 for $50 million, and opened in 1999.
The arena is home to the Arkansas Twisters arena football team and former home of the RiverBlades ice hockey team. The arena also holds the Arkansas Sports Hall of Fame, which is accessible on the western side of the building. The arena has hosted such musical acts as Brooks and Dunn, Elton John, Janet Jackson, Kid Rock, 'N Sync, and Prince. The UALR Trojans basketball teams play their home games at Verizon Arena.
During construction a number of flaws manifested themselves, including "concrete pillars and connecting incline beams that were poured up to six inches out of alignment." The concrete pillars and connecting incline beams were poured by Nabholz Building & Management Corp. of Greenbrier. According to Art Hunkele, senior project manager for Vratsinas Construction Company of Little Rock and Turner Construction Co. of New York and Dallas concrete pillar and piers define the perimeter of the arena, and the beams support seating. There are two more rows of pillars and piers within the perimeter. It was the middle row where forty percent of the pillars and piers were incorrectly placed. A cracked upper deck beam, soon remedied, caused cancellation of a Lakers-Wizards NBA game in October 1999.
The arena lost $378,000 in 2001 despite being named a top forty arena in terms of ticket sales, but turned a profit of $51,000 in 2002. The Multi-Purpose Civic Center Facilities Board for Pulaski County manages the arena. Michael Marion serves as the general manager of the facility.
References
Jay Harrod and Kerry Kraus, "Capital Improvements: A Look at Little Rock's Past and Future Downtown Revitalization Efforts," Arkansas Department of Parks & Tourism, April 9, 2002, unpublished.
Kim McGuire, "Alltel: An Arena for All Arkansas; On Saturday the Public Gets Its First Real Look at the New $80 Million Facility," Arkansas Democrat-Gazette, September 26, 1999.
Alicia Stogner, "Arena Lives Up to Promise: Shaky Opening Fades as Alltel Arena Turns Profit," Arkansas Business, February 24, 2003.
External links