Toltec Mounds Archeological State Park
From FranaWiki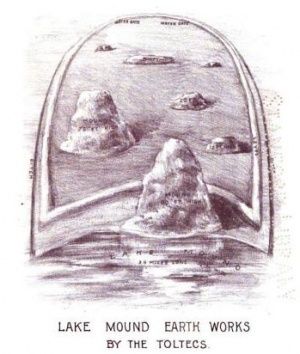 Toltec Mounds Archeological State Park is a prehistoric Woodland period Native American Indian site sixteen miles from North Little Rock in Scott, Arkansas. The Plum Bayou culture occupied the Toltec Mounds site from 650 to 1050 AD.
The Plum Bayou people settled in this part of the Arkansas River valley around 650 AD. The original name of the inhabitants is unknown; the name Plum Bayou is derived from a nearby creek. The mounds were mistakenly identified as Toltec remains by nineteenth-century landowner Mary Eliza (Officer) Knapp. In 1883 Edward Palmer and other archeologists from the Smithsonian Institution's Bureau of Ethnology digging at the site determined that the mounds were built by a North American Indian ancestral group, and not by the Toltec Mexican civilization. The mounds were abandoned around 1050.
The Mound Complex
The Mounds themselves are located near an oxbow lake called Mound Pond, and were created by hauling in thousands of individual baskets of soil. Most of the mounds were used for ceremonial purposes, and some are placed to line up with each other at the time of the spring equinox, summer solstice, and fall equinox. The tallest hillock, Mound A, is fifty feet in height. Mound A is located next to an oxbow lake called Mound Lake. Human remains have been found in only one of the earthworks, designated as Mound C. Passenger pigeon remains have been found at the site. There are eighteen known mounds, many of which have been destroyed over the past 150 years by farming activity.
The mounds were originally surrounded by a ten foot earthen embankment and a low ditch. The mounds may have been arranged in order to predict the solstices and equinoxes. The plazas between the mounds may have been used for dances or festivals or sacred ceremonies. Perhaps 50 to 100 people lived at the site. Most Plum Bayou people lived in surrounding villages and farms.
The Mounds are accessed by two trails, the paved Knapp Trail (0.8 mi.) and the unpaved Plum Bayou Trail (1.6 mi.)
Visitor Center
The Toltec Mounds Visitor Center contains an exhibit hall with displays of artifacts found on the site, interpretive displays for adults and children, a gift shop, education room, archeological workshop, offices, and the main desk. The Visitor Center also contains the dugout Griggs Canoe, discovered in the bank of the Saline River in the winter of 1982-1983. The age of the dugout is not known.
Education Pavilion
The enclosed education pavilion is available for rent at $75 per day.
The Toltec Mounds site was purchased by the Arkansas Department of Parks and Tourism in 1975. The mounds were named a National Historic Landmark in 1978. Toltec Mounds opened to the public in 1980.
References
Toltec Mounds Archeological State Park, The Griggs Canoe brochure.
Susan Nichols, Knapp Trail Guide brochure.
Toltec Mounds Archeological State Park, Plum Bayou Trail brochure.
External links