Sticky Fingerz
From FranaWiki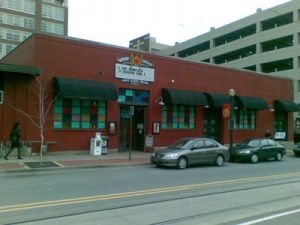 Sticky Fingerz is a restaurant and live music venue in downtown Little Rock.
Sticky Fingerz Chicken Shack was established by Chris King and Suzon Awbrey in 2000. Sticky Fingerz is not only a restaurant specializing in gourmet, hand-rolled chicken but also a well-known venue. Live music plays Tuesday through Saturday, featuring both local musicians and others from around the country. The genre of music playing ranges from bluegrass to hip-hop to Guns & Roses tributes to ensure there is something for everybody. Sticky Fingerz is conveniently located in Little Rock's River Market District. The building stands out with its colorful front doors with a sign overhead reading, "If dreams were thunder and lightening were desire, this old house would have burned down a long time ago."
The shack has a slightly different vibe than it did when it first opened due to the passage of Senate Bill 19, which was approved by a 29-3 vote. After the new Arkansas smoking laws went into effect in 2006, only those at least 21 years of age were allowed in Sticky Fingerz. Arkansas is the 17th state to put smoke-free legislation into place.
A new venture from the owners is the Sticky Fingers Artist Friendly radio station-THE CHICKEN WIRE. The main site for the business features the calendar for live events, a full menu including specials, and directions to the shack.
References
External links