Robinson Center
From FranaWiki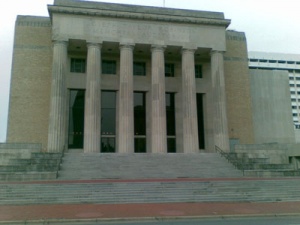 The Robinson Center is a Greek Revival performance hall named for Joseph Taylor Robinson, an Arkansas governor, U.S. Senator, and former member of the U.S. House of Representatives. Robinson ran for vice president in 1928 on the Democratic Party ticket. The center contains an exhibit hall, conference facilities, and a 2,609-seat auditorium.
The Arkansas Symphony Orchestra calls the Robinson Center home for many of its concerts. In December 1992 the center hosted the Clinton Economic Conference.
The Robinson Center is operated by the Little Rock Convention and Visitors Bureau.
References
External links