Powell Clayton
From FranaWiki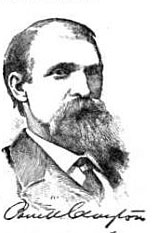 Powell Clayton was the eighth State of Arkansas, serving from July 2, 1868, to March 17, 1871.
Powell Clayton was born in Bethel, Pennsylvania, on August 7, 1833. Clayton attended the Bristol Academy, and studied civil engineering in Wilmington, Delaware. In 1859 he moved to Leavenworth, Kansas, to take work as a surveyor and engineer. During the Civil War Clayton rose to brigadier-general in the Union Army, attacking and destroying Confederate installations in Helena and Pine Bluff, Arkansas. When the war ended he acquired land in the state and became a planter.
Clayton was elected governor in June 1868. He resigned in 1871 after his election to the U.S. Senate. Clayton retired while in office in 1877. After retirement he presided over the Eureka Springs Railway Improvement Company. In 1898 he became ambassador to Mexico.
References
The National Cyclopaedia of American Biography: Being the History of the United States as Illustrated in the Lives of the Founders, Builders, and Defenders of the Republic, vol. 10 (J.T. White, 1900), 188.
External links