Ottenheimer Market Hall
From FranaWiki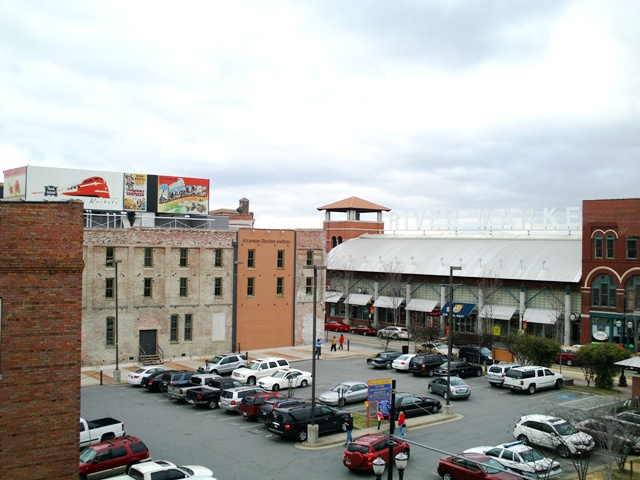 Ottenheimer Market Hall is an enclosed public marketplace at the heart of the Little Rock River Market District. It is often simply called the "River Market" because of the distinctive sign on its roof, visible for many blocks on both sides of the river. The Hall includes more than seventeen food vendors, coffee shops, and gift booths, as well as a demonstration kitchen. The Hall underwent a significant renovation in 1995-1996 under the leadership of design firm AMR Architects of Little Rock.
Ottenheimer Hall opened as a seven-days-a-week tourist destination, but began closing on Sundays as demand for vendor services fell. In 2008 the Market Hall began reopening on a trial basis on Sundays from 11 AM to 4 PM to meet increasing traffic into the River Market area.
Ottenheimer Hall underwent minor renovations, including the installation of significantly more seating, in advance of the NCAA basketball tournament in March 2008. The Hall has also played host to the Little Rock Marathon, the Arkansas Sculpture Invitational, and the Arkansas Literary Festival.
Ottenheimer Market Hall is managed by Shannon Light. The Market Hall is located at 400 President Clinton Avenue. Hours for the hall are Monday through Friday from 7 AM to 6 PM.
References
Kristin Netterstrom, "Makeover Scheduled on River Market Hall," Arkansas Democrat-Gazette, February 2, 2008.
Kristin Netterstrom, "River Market Hall to Try Out Being Open on Sundays," Arkansas Democrat-Gazette, February 14, 2008.
External Links