Old Post Office and U.S. Courthouse
From FranaWiki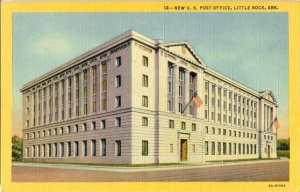 The Italian Renaissance Revival-style Old Post Office and U.S. Courthouse is located at 300 West Second Street in Little Rock, Arkansas. The federal building was designed by U.S. Treasury Department architect James B. Hill and constructed between 1876 and 1881. A 9,000 square-foot 1897 addition was designed by James Knox Taylor. Two wings were added in 1908.
When it opened in 1881 the first floor of the building house the U.S. Post Office for the city. The second floor was given over to the offices of the Collector of Internal Revenue. The third and fourth floors housed the U.S. District Court and U.S. Marshall's Office. All federal offices left the building in 1932. The building became the home of the Armed Forces Examining and Entrance Station.
The building was turned over to the University of Arkansas Law School in the mid-1970s, which remained on site until 1992. The federal government reacquired the building and between 1994 and 1997 added two more wings in the back. It is now home to the U.S. Bankruptcy Court and the U.S. Marshal Service.
The exterior plaza is dominated by the sculpture Ex Nexum by Jim Sanborn.
References
External links