Arkansas Museum of Discovery
From FranaWiki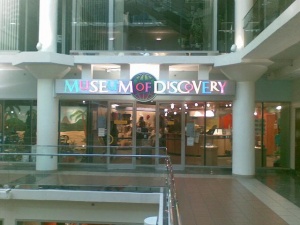 The Arkansas Museum of Discovery is a children's science and history museum in the Museum Center in the heart of the Little Rock River Market. The museum was founded on Main Street in 1927 by Julia Burnell "Bernie" Smade Babcock as the Arkansas Museum of Natural History and Antiquities. The original artifacts were donated by missionaries. One of the most popular artifacts on display was the so-called "Head of a Chicago Criminal."
The City of Little Rock acquired the museum at Christmastime in 1929. The City moved the museum to the Tower Building of the Little Rock Arsenal in 1942. In 1964 the museum became the Museum of Science and Natural History. The name changed again in 1983 to the Arkansas Museum of Science and History. In 1998 the museum officially became the Museum of Discovery: Arkansas' Museum of Science and History and reopened in its current location in the River Market District. The new museum cost $10.6 million.
As the oldest museum in Little Rock, it continues to educate people of all ages. The museum has both permanent and seasonal exhibits that encourage children to learn using hands-on experiments with electricity, robotics, light and color, anatomy, architecture, and state history. During a week of celebration in anticipation of the opening of the Clinton Library in November 2004 U.S. Senator John Glenn opened an exhibit on "Space and the Presidency" at the Museum.
The Museum of Discovery was accredited by the American Association of Museums in 1993 and became a Smithsonian Affiliate in 2003. It is also the center for the Arkansas Discovery Network, a program affiliated with the Donald W. Reynolds Foundation. Hours for the Museum of Discovery are Monday through Saturday from 9 AM to 5 PM and Sunday from 1 PM to 5 PM.
References
External links