M. M. Cohn
From FranaWiki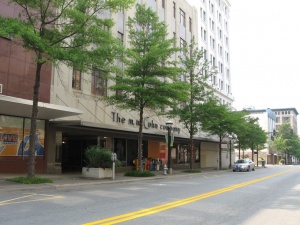 M. M. Cohn was a specialty department store and longtime mainstay of Main Street in downtown Little Rock. The store, which focused on men's and women's fashions, became a regional chain with Arkansas stores in Little Rock, North Little Rock, Searcy, and El Dorado, and stores outside the state in Oklahoma City and Tulsa, Oklahoma; and Memphis, Tennessee.
The company was founded by a Polish immigrant with the surname Kaminski or Kuhn, born in Krakow around 1845, who changed his name to Mark Matthias Cohn after visiting a Jewish district of New York City. Kaminski or Kuhn may have sold eyeglasses and other wares in Cincinnati, Ohio, and elsewhere as a peddler before settling in Arkansas. It is likely that Cohn opened his first store in Arkadelphia, Arkansas, in 1874, though some accounts indicate the first store opened in Little Rock.
M. M. Cohn's first store in Little Rock opened at the corner of Main and Markham streets in the Capital Hotel. By 1883 the author of a local sketch of the city noted that no retailer in the city occupied "a more prominent position with reference to the amount of stock carried, extent of business transacted, convenience and commodiousness of premises occupied, and none superior in the high standard of commercial honor upon which its operations are based, than the establishment founded by Mr. M.M. Cohn ... They have made their house, by uniform courtesy and genial treatment of visitors and customers, a pleasant one with which to have dealings."
The store moved down the street in 1898 to a location between Third and Fourth streets on Main Street.
In 1912 his son Albert Daniel Cohn became the president of the store. Albert Cohn had served as an engineer with the Army Corps of Engineers before joining M. M. Cohn.
In 1940 the store moved again to a 75,000 square foot building at 506-510 Main between Capitol Avenue and Sixth Street. Other stores opened in the University Mall in 1967, and McCain Mall in 1973.
Mark Matthias Cohn's grandson Dan Phillips, the son of Albert's daughter Miriam, became president in 1969 and made the store a regional operation. Dan Phillips had been managing the bargain basement operation for Cohn's rival Blass Department Store.
It occupied a storefront in the failed Metrocentre Mall which closed in 1989. In 1989 the company was purchased by department store chain The Dunlap Company of Fort Worth, Texas. The last M. M. Cohn's store closed on September 16, 2007.
References
Mike Trimble, "30 Years Create Downtown Differences," Arkansas Gazette, May 2, 1982.
"M. M. Cohn was Arkansas' High-Fashion Store: Polish Immigrant Built Store's Reputation on Quality Merchandise and Personal Service," Arkansas Business, April 29, 2002.
External links