Lincoln Drug Company
From FranaWiki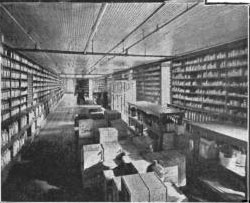 The Lincoln Drug Company was established at 112 North Main Street in Little Rock, Arkansas, in 1865. The company was involved in wholesale drugs, liquors, tobacco products, dental supplies, paints, oils, and stationery.
The proprietor and president of Lincoln Drug was Charles J. "C.J." Lincoln. C.J.'s son Charles Knox Lincoln became company president in 1907. The vice president was J. H. Brown, and the secretary L. J. Ashby and Walter Wittenberg. The treasurer was W. R. Eckford.
References
Bernie Babcock, Yesterday and Today in Arkansas: A Folio of Rare and Interesting Pictures from Mrs. Babcock's Collection for Stories and Legends of Arkansas (Jordan & Foster Printing Co., 1917), n.p.
External links