Kaki Hockersmith
From FranaWiki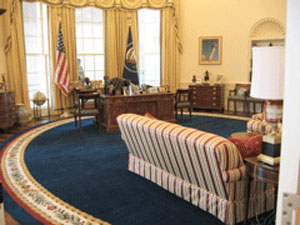 Kaki Hockersmith is a Little Rock decorator and recreator of the Clinton-era Oval Office in the Clinton Library. Hockersmith has served as interior designer to the Clintons many times, beginning with her work at the Arkansas Governor's Mansion.
The Library's Oval Office is a scale reproduction. Hockersmith designed both the original rug installed in the Oval Office in Washington, DC, in 1992 and the replica placed in the Library in 2004. The exhibit features copies of "The Thinker" by Rodin, a Childe Hassam painting, paperweights, and photos.
After the Clintons moved into the White House in 1993, they hired Hockersmith to be their personal decorator. Congress grants each first family $50,000 to refurbish their living quarters. A historian on presidency at the University of Texas at Austin, Lewis Gould, said that whatever was done at the White House "is apt to raise questions of Arkansas culture verses East Coast elite and whether the Clinton's are bringing sufficient taste to the White House." The Clinton had many stereotypes to break simply because they were from Arkansas. Hockersmith would convey the taste that Hillary Clinton wanted. Kaki was from Little Rock and understood how the Clinton's operated. One longtime client stated, "She tries to get a clear fix on the person she's working for. My house feels like mine."
Hockersmith attended the University of Central Arkansas. Her first experience with designing was arranging furniture vignettes at Dillard's. She opened her first decorating shop eight years ago. Hockersmith lives in the Edgehill neighborhood of Little Rock.
References
External links