James Paul Clarke
From FranaWiki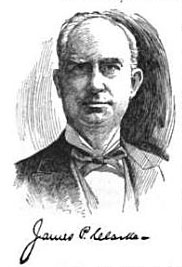 James Paul Clarke (1854-1916) was the eighteenth governor of the State of Arkansas, serving in office from January 8, 1895, to January 12, 1897.
Clarke was born in Yazoo City, Mississippi, on August 18, 1854 to Walter and Ellen (White) Clarke. His father was an architect and civil engineer. He studied law at the University of Virginia where he graduated in 1878. He moved to Helena, Arkansas, the next year and began practicing law.
Clarke was elected to the Arkansas House of Representatives in 1886, became a state senator in 1888, and then served as the Attorney General in 1892 before his election as Democratic governor in September 1894. As governor he resolved debates over disputed land claims, and saw passage of a law to ban prize fighting in the state. After serving one year in the state's highest office he campaigned for a seat in the U.S. Senate, but lost the election. He moved his law practice to Little Rock after the failed bid. A later election run in 1902 led to his being seated in the U.S. Senate from 1903 to 1916. He served as president pro tempore twice. Clarke died holding his Senate office in 1916. He is buried in Little Rock's Oakland Cemetery.
A marble statue of Clarke is located in the Capitol Visitor Center in Washington, D.C. The statue had resided in the Capitol's Statuary Hall from 1921, when it was sculpted by Pompeo Coppini, until 2008 when it was moved.
References
Jane Fullerton, "Out of the Shadows," Arkansas Democrat-Gazette, November 25, 2008.
The National Cyclopaedia of American Biography: Being the History of the United States as Illustrated in the Lives of the Founders, Builders, and Defenders of the Republic, vol. 10 (J.T. White, 1900), 193.
Who's Who in the World, 1912 (The International Who's Who Publishing Company., 1911), 283.
External links