James Henderson Berry
From FranaWiki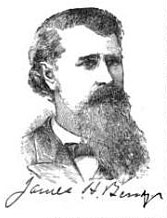 James Henderson Berry was the fourteenth governor of the State of Arkansas, serving from January 13, 1883, to January 17, 1885.
James Berry was born in Jackson County, Alabama, to farmer James M. and Isabella (Orr) Berry on May 15, 1841. His family moved to Carrollton, Arkansas, in 1848. In the Civil War Berry served as a lieutenant in the Sixteenth Arkansas Infantry. He fought at the Battle of Pea Ridge and Battle of Inka. At the Battle of Corinth, fought in October 1862, he lost his right leg to amputation. In July 1863 he returned to Arkansas. After the war he became a schoolteacher in Ozark and married local woman Lizzie Quaile.
The couple moved to Carrollton where he studied law and saw election as a state representative in 1860. He was admitted to the Arkansas bar that same year. In 1869 they moved again to Bentonville. He successfully stood for election there in 1872, and was reelected in 1874. In his second term he served as speaker of the house. In 1876 he became State Democratic Convention chairman, and in 1878 a state circuit court judge.
Berry defeated Republican W. D. Slack and Greenbacker Rufus Garland in a close fight for the governorship in 1882. He resigned after one term to run for U.S. Senate, but withdrew during the balloting process. After A. H. Garland was appointed U.S. Attorney General in 1885, Berry ran successfully for his vacated U.S. Senate seat.
References
The National Cyclopaedia of American Biography: Being the History of the United States as Illustrated in the Lives of the Founders, Builders, and Defenders of the Republic, vol. 10 (J.T. White, 1900), 190-191.
External links