Flying Fish
From FranaWiki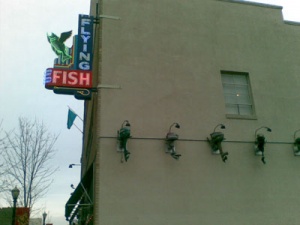 Flying Fish is a restaurant on President Clinton Avenue in downtown Little Rock. The Flying Fish is part of Little Dix Flying Fish, a small chain of seafood restaurants with four locations in Texas, one in Tennessee, and one in Arkansas. The Flying Fish is said to be one of Bill Clinton's two favorite restaurants in the city, the other being Doe's Eat Place.
The Flying Fish's menu features fried catfish, grilled tilapia, salmon, grouper, shrimp, oysters, crab, gumbo, poor boys, et cetera. This family restaurant is known for its casual, self-service atmosphere, fair prices, and friendly, capable staff. There are no waiters; orders are taken up front, and a buzzer will flash to signify a completed order. The Flying Fish offers daily specials, and if customers want the chef to add a little kick to their food, then they simply say, "make it snappy" when they order, and their food will come out having been cooked with a little extra spice. On weekends especially, the line may be out the door (the seating capacity is 146), but the amiable restaurant will do its best to appease waiting customers with hushpuppies until they can be seated.
They serve beer and wine, but smoking is no longer allowed within the restaurant due to the new laws. This helps the Flying Fish to remain a family-friendly establishment, which is convenient as many other hot spots in Downtown Little Rock have bypassed this law by closing their doors to anyone under the age of 21 (even during lunch hours). All in all, this restaurant is highly recommended by locals and visitors alike.
The Little Rock location is 511 President Clinton Avenue in the River Market. The downtown restaurant is decorated with five outboard motors.
References
Kyle Brazzel, "Taking Stock of the Market," Arkansas Democrat-Gazette, June 30, 2006.
External links