Doe's Eat Place
From FranaWiki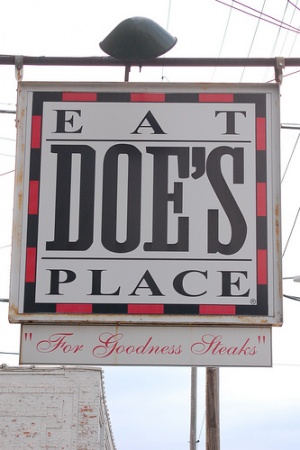 Doe's Eat Place is a restaurant located at 1023 West Markham in downtown Little Rock, Arkansas, favored by Bill Clinton and popular among state capitol legislators and local attorneys.
Doe's was made famous as an informal base of operations during Clinton's 1992 race for the presidency. "When the Razorbacks were real good in basketball back in the mid-'90s and he watched one of their Final Four games here, well, it was just quite a circus," remembers assistant manager Nick Rule. "It was lots of fun." Staff members recollect that Clinton felt so at home in the restaurant that he would sample fries right out of the fryer. Rolling Stone interviewed Clinton in the back room of the restaurant for its September 1992 issue.
The restaurant is located at 1023 West Markham Street. Doe's features tamales and steaks. Doe's is owned by the family of George Eldridge and managed by Debra Wadley. The restaurant has been at its present location for two decades.
References
William Greider, P.J. O'Rourke, and Hunter S. Thompson, "Bill Clinton," Rolling Stone, September 17, 1992.
Michele Norris and Greg Allen, "Building Boom Around Clinton Presidential Center and Park in Little Rock, Arkansas," NPR News: All Things Considered, June 14, 2001.
External links