The Fight for Power
From FranaWiki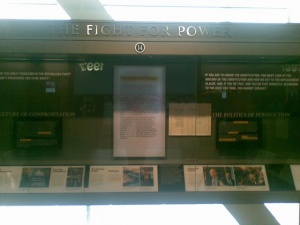 The Fight for Power is the fifth of thirteen policy alcoves among the Clinton Library museum exhibits. The alcove was edited by two Clinton advisors, John Podesta and Bruce Lindsey, and approved by Bill Clinton. The text presented in the alcove acknowledges a "serious mistake" on Clinton's part in engaging in a sexual dalliance with White House intern Monica Lewinsky, and admits that he had "not been forthcoming" when challenged about the relationship.
In defending the president's mistake, the exhibit presents the argument that presidential opponents used the scandal to feed "the media's hunger for constant scandal, real or imagined," and launch a 1998 impeachment witch hunt to "deny the very legitimacy of the president's election." Among the evidence presented is the Arkansas Project funded by Richard Mellon Scaife for digging up embarrassing information about the Clintons, and the Whitewater and Travelgate scandals.
One placard states Clinton's case frankly: "The impeachment battle was not about the Constitution or the rule of law, but was instead a quest for power that the president's opponents could not win at the ballot box." Another placard announces: "In this combustible climate, the congressional Republicans took the politics of personal destruction to a new level, using the subpoena power to investigate Democrats, attack them in a number of public hearings and attempt to change popular public policies by discrediting the president and members of his administration personally."
In a media walk-through of the Clinton Library museum just before the dedication ceremony, Lindsey noted that "[i]mpeachment was a part of an eight-year struggle beginning in '93, escalating in '94 after Republicans took the Congress. The Congress did it because, as Newt Gingrich said, because they could, because they had the votes. That is the context in which he believes it should be viewed."
In August 1998 Arkansas Democrat-Gazette columnist John R. Starr argued that the disgrace of the presidency would be better represented by a riverfront theme park called "Sex Flags over Wet Willie." In the fall of 1998 Clinton advisor Skip Rutherford responded, "The more controversial a president is, the more intriguing his library will be. Libraries are about the whole scope of the administration, good and bad, victories and defeats, successes and failures."
References
Paul Bedard, "The Impeachment Museum," U.S. News & World Report 125.25 (December 28, 1998-January 4, 1999): 9.
"Clinton Library Musings Accelerate," American Libraries, 29.9 (October 1998): 23.
Joseph Curl, "Whitewashing Whitewater: Clinton Library Presents Its Own Slant," Washington Times, November 18, 2004.
John F. Harris, "Unity Shines in the Rain at Clinton Library Dedication," Washington Post, November 19, 2004.
External links