River Market Farmer's Market
From FranaWiki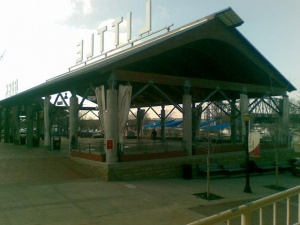 The Farmer's Market at the Little Rock River Market is housed in two permanent pavilions with views of Riverfront Park and the Arkansas River. The market offers fresh fruits and vegetables from Arkansas and beyond. In 2007 the market had about two hundred registered vendors. About ninety could be expected to sell their produce and wares on a typical weekend during the growing season. The market's hours are Tuesdays and Saturdays (7 AM to 3 PM) from May through October.
The Farmer's Market opened on Saturday, July 6, 1996, one day after the River Market proper. On that first Saturday so many cars jammed the avenue in front of the market that prominent downtown booster Johnnie Holcomb called River Market developer Jimmy Moses to tell him joyously that "[t]here are people everywhere."
History of Little Rock's Downtown Farmer's Market
A farmer's market was first established on Main Street in downtown Little Rock in 1974. One of the original participants in that market was J. A. Kyzer. The market moved at one point to a location on Scott Street. Some of the participants in the current River Market Farmer's Market are original vendors in their thirty-fifth year of operation in 2009.
References
Kristin Netterstrom, "LR Farmers' Market to Celebrate 35th Year," '"Arkansas Democrat-Gazette, April 21, 2009.
External links