Donaghey Building
From FranaWiki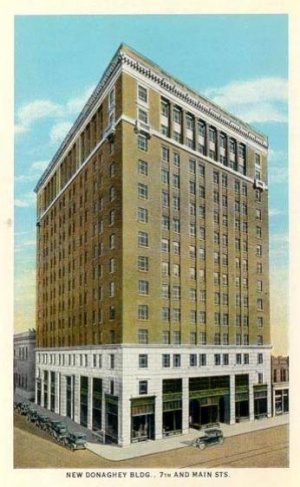 The Donaghey Building is a partly vacant fourteen story building at the corner of Seventh and Main streets in downtown Little Rock. The building was the tallest structure in Arkansas from 1926 to 1930, when it was surpassed by the sixteen-story Hotel Ben McGehee.
In 1926, the year the building was finished, the Donaghey Building was the tallest in the state of Arkansas. Three years later former Governor George Washington Donaghey donated the structure and the next door Federal Bank and Trust Building to the trustees of the Little Rock Junior College. The sale of these buildings generated an endowment of almost $2 million.
The Donaghey Building is sometimes called Little Rock's "first skyscraper," though the seven-story Pyramid Place building on Second Avenue, completed in 1907, is also a candidate for the honor.
References
"Bigger Taller, Costlier: Landmark Buildings Outdo Each Other," Arkansas Business, December 27, 1999.
External links