Daniel Webster Jones
From FranaWiki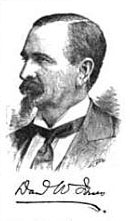 Daniel Webster Jones was the nineteenth governor of the State of Arkansas, serving from January 12, 1897, to January 8, 1901.
Daniel Jones was born in Bowie County, Texas, to physician Isaac Newton and Elizabeth Wilson (Liulejohn) Jones on December 15, 1839. Jones attended private school in Washington, Arkansas, and read law under Judge John R. Eakin. During the Civil War he served with the Third Arkansas Infantry at the Battle of Oak Hills and the Twentieth Arkansas Infantry at the Battle of Corinth. He exited the war as a colonel and brigade commander.
In September 1865 he was admitted to the Arkansas bar and began practicing criminal law back in Washington, Arkansas. He was appointed a prosecuting attorney to fill a vacancy in January 1866 and was elected outright in 1874. He was elected state attorney general in 1884, and moved to Little Rock in January 1885. He was reelected to the post in 1886. He was elected a Pulaski County representative to the Arkansas House in 1891. He was elected governor in 1896 and re-elected in 1898.
References
The National Cyclopaedia of American Biography: Being the History of the United States as Illustrated in the Lives of the Founders, Builders, and Defenders of the Republic, vol. 10 (J.T. White, 1900), 193-194.
External links