Community Bakery
From FranaWiki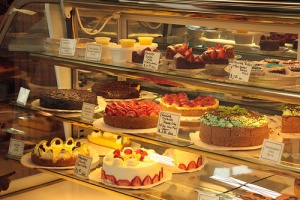 Community Bakery is a Little Rock café and bakery with three locations: downtown at 1200 Main Street, in the River Market at 400 President Clinton Avenue, and in West Little Rock at 270 South Shackleford Road. The 1200 Main Street bakery is located in the old Cohn Building built around 1911.
Community Bakery has long been a favorite stop for Little Rockers whether they be businessmen and women grabbing breakfast on their way to the office, young hipsters feeding their cravings for caffeine, or anyone at all who knows where to find quality, fresh-baked bread. Well known for its expertise with desserts such as cheesecakes, pies, and fruit tarts, this café/bakery has sated many a sweet tooth, including that of former president, Bill Clinton.
Community Bakery, however, has much more to offer than just gourmet coffee and delicious pastries. It also features an impressive lunch menu making it one of the best soup and sandwich joints in the city. As a restaurant, the bakery offers an ever-changing variety of sandwiches, wraps, paninis, and quiches (many of them vegetarian). It advertises its soupe du jour a few weeks in advance so that customers can plan ahead and come for their favorites. You will feel like you have earned an indulgent dessert after substituting your side of potato chips with one of baby carrots when you order your lunch. The restaurant also constructs box lunches and trays of fruit and cheese. The atmosphere is warm and friendly, and the artwork of local painters adorns the walls.
References
Werner Trieschmann, "Java-Joint Offices," Arkansas Democrat-Gazette, December 2, 2008.
External links