Comfort Inn & Suites Downtown
From FranaWiki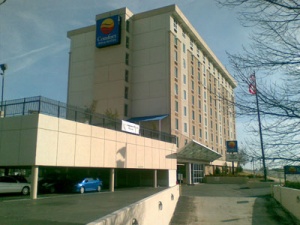 The Comfort Inn & Suites Downtown is a hotel located at 707 Interstate 30 in Little Rock, Arkansas. The hotel is near the Clinton Library, River Market District, Heifer International headquarters, ALLTEL Arena, and many other downtown attractions.
The hotel opened in 1997 under the partnership KDV Incorporated. The hotel has seventy rooms.
References
Chuck Plunkett, "Downtown or Not Downtown? Businesses Following Workers' Migration to West Little Rock," Arkansas Democrat-Gazette, June 8, 1997.
External links