Clinton boyhood home
From FranaWiki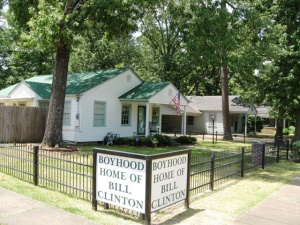 The Clinton Boyhood Home is a 950-square foot house located at 321 East 13th Street in Hope, Arkansas. Bill Clinton lived in the three-bedroom, one-bath bungalow from 1950 to 1953, attending first grade at nearby Brookwood Public School.
Clinton's family moved to nearby Hot Springs, Arkansas, in 1953.
References
Jennifer Harper, "Clinton's Boyhood Home on EBay; Arkansas House Not a Priority for Preservationists," Washington Times, March 18, 2004.
External links