City Tiles
From FranaWiki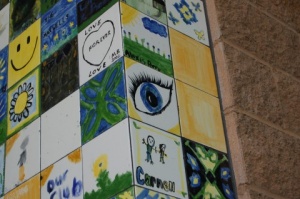 City Tiles is an art project completed in November 2004 by the Little Rock Parks and Recreation Department and the UALR Sturgis Fellow Program. The project features tiles painted and glazed by young people and installed beneath the Interstate 30 on-ramp where it extends over President Clinton Avenue.
The City Tiles project is a great example of how the construction of the Clinton Library has not only broadened the audience and clientele of Little Rock but also affected the outer appearance of Arkansas' capitol city. Street repair is a topic widely feared by administrations because of its high financial and always recurring aspect. As Turner says, street repairs are supposed to occur every five years. Under normal circumstances, by the opening of the Clinton's Library in 2004 the River Market normally would not have seen repairs since 1999, exactly fitting into Turner's predictions. Even though they would have been carried out in the course of time, the opening of the Clinton Library and the consecutive anticipation of visiting masses (about 300,000 visitors were expected to come during the Library's first year) accelerated the restoration process to a great extent.
Next to improved street lanes, traffic lights, trash system and signs as well as new trees adorning alleys the City Tiles Project is a very unique decoration of the underside of the Interstate 30 bridge. It covers unwanted graffiti that ruined the visitors view to the entrance of the library park. The City Tiles Project consists of 3,500 tiles hand-painted by students of the Little Rock area and glazed by seniors of the Stephens Recreation Center. They can be seen as products of age- overcoming cooperation. Funds have been collected from private donors. Each tiles is about 6 inches square. The tile "mosaic" underneath the interstate is complemented by bronze sculptures that can be found all around the library area.
References
External links
http://www.clintonlittlerock.com/special.asp?aID=68&pagenum=1