Central Baptist College
From FranaWiki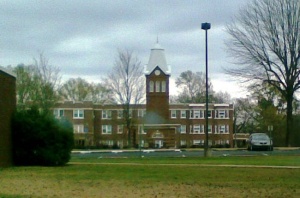 Central Baptist College (CBC) in Conway, Arkansas, was founded in 1952 as Conway Baptist College. The school grounds were originally occupied by Central College for women, which was established in 1892 and closed in the 1947-1948 school year. Central Baptist College is an affiliate of the Baptist Missionary Association of Arkansas.
Academics
CBC offers associate of arts degrees in business, education, general education, mathematics, music, office administration, pastoral studies, and religious education. The college offers bachelor's degrees in church music, youth ministry, and bible studies with emphases in missions, pastoral studies, and religious education.
Athletics
The mascot of Central Baptist College is the Mustang. CBC is a member of the National Christian College Athletic Association and the National Association of Intercollegiate Athletics. The Mustangs compete in NAIA Division II athletics.
References
David McCollum, "Central Baptist College Joines the NAIA," Log Cabin Democrat, October 5, 2009.
External links