Capital Hotel
From FranaWiki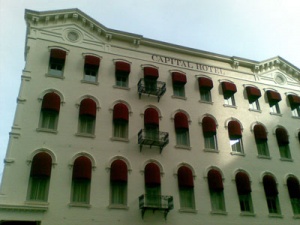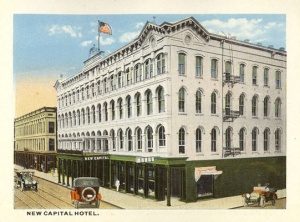 The Capital Hotel is an historic Victorian lodging facility in downtown Little Rock. The hotel offers 126 rooms to guests.
The Capital Hotel opened in 1872 as an office and retail building at the corner of Markham & Louisiana streets. A fourth floor was added to the building in 1887 to provide lodging. The building was originally owned by W. J. Denckla of the Little Rock and Fort Smith Railroad.
At the hotel's dedication ceremony an unknown local Little Rock woman noted, "I can think of no name more appropriate than The Capital Hotel, as it is a capital enterprise located in a capital building, which will do honor to the capital of the state." The hotel has the largest elevator in the state. It has been said that Ulysses S. Grant once rode his horse into the hotel's massive main elevator during an 1880 visit to Little Rock.
The hotel was sold to Elizabeth L. Cassinelli in the 1920s. It closed for the first time in 1977 before being sold in the early 1980s to local architect Ed Cromwell in partnership with Lawrence Walters, and Charles B. Bland Jr., and backed by Lincoln Hotels of Dallas, Texas. Cromwell secured a $10 million federal grant and $4.25 million from the Metrocentre Improvement District for its first major restoration. The general contractor on the 1983 restoration effort was Nick Howell of Howell-Jackson.
Patrons could once play pool in the Brunswick Billiard Parlor.
The luxury hotel often lodged the national press corps during the Clinton administration.
The Capital Hotel houses two restaurants, Ashley's (formerly the Chester Ashley Restaurant) and the Capital Bar and Grill. Lee Richardson, executive chef at Ashley's, subscribes to the philosophy of the slow food movement and serves locally produced fruits, vegetables, and meats whenever available. He buys Gloucester Old Spot hogs from Ragan Sutterfield's Adama Farms, for instance, because lean varieties of pork "doesn't taste like pigs anymore."
The Capital Hotel underwent a two-year, $24 million restoration effort in 2005, and reopened on November 19, 2007. The hotel is today owned by prominent Little Rock investment banker Warren A. Stephens and its chief operating officer is Michael Chaffin.
References
Michael Haddigan, "Stephens Holds Bonds for Restoring Capital Hotel, May Want to Buy It," Arkansas Democrat-Gazette, July 25, 1987.
Jennifer Barnett Reed, "Take It Slow: Socially Conscious Eating in the Post-Organic World Means Ditching the Paper Plates and Getting to Know Who Grows Your Greens," Arkansas Times, December 9, 2007.
External links