Blanche Lincoln
From FranaWiki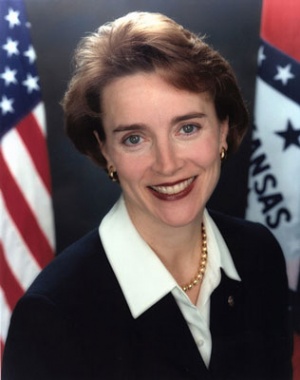 Blanche Lincoln is United States Senator from the State of Arkansas. On November 3, 1998, Senator Blanche L. Lincoln made history when she became the youngest woman ever elected to the United States Senate at the age of 38.
Hattie Caraway of Jonesboro. As a tribute to her predecessor, Lincoln uses the same desk on the Senate floor that Senator Caraway used more than 60 years ago.
Lincoln was re-elected to the United States Senate in 2004 after receiving more than 580,000 votes, the highest total cast for a candidate to the U.S. Senate and the second highest total for a statewide candidate in Arkansas election history.
She has also emerged as a national leader in the fight against hunger. Senator Lincoln founded and currently chairs the Senate Hunger Caucus to help focus the attention of her colleagues and the nation on the millions of American families, especially children, who suffer from food insecurity.
Lincoln was first elected to public office in 1992 as U.S. Representative for Arkansas's First Congressional District. Hailing from a seventh-generation Arkansas farm family, Lincoln is a Helena, Arkansas, native where her mother Martha Kelly Lambert still resides. Lincoln received a bachelor's degree from Randolph-Macon Woman's College in Lynchburg, Virginia and studied at the University of Arkansas in Fayetteville. Senator Lincoln and her husband, Dr. Steve Lincoln, are the proud parents of twin boys, Reece and Bennett.
"I regret that my first opportunity to speak on the floor of this historic Chamber is under these circumstances. And I am reluctant to speak here today. I had intended to wait until I had more experience under my belt before I addressed my esteemed colleagues here.
My colleague expressed regret that the black and white of right and wrong is not as easy as it was growing up in that small rural community.
I want desperately to cast the right vote for the people that I represent in Arkansas and for all the people of this great country. My heart has been heavy and I have deliberated within my own conscience, knowing that my decision should not come out of my initial emotion of anger toward the President for such reckless behavior, but should be based on the facts. I have approached this both as a parent and as a public servant, with the ultimate goal of doing what is right for our country. Since hearing of the President's misconduct, I have in no way tried to make excuses for the President or to defend such dishonorable behavior. I have tried to determine how we should communicate to our children and our Nation that this very visible misconduct is unacceptable."
References
External links